Children's Dentistry
Affordable, Family-Friendly Dental for Kids in Toowoomba, QLD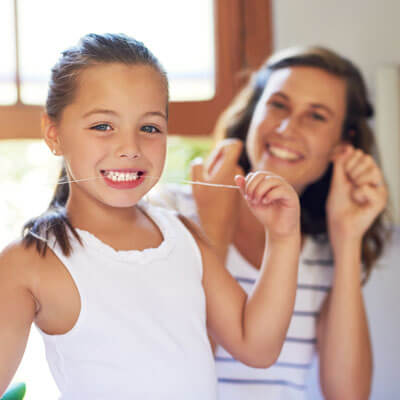 Establishing healthy dental habits for kids early on in their lives is a surefire way to improve oral health, and support the proper development of teeth as your child ages.
At Access Dental Services of Toowoomba, QLD we know that children are often apprehensive and nervous about seeing the dentist. We're committed to making their experience one they will remember for all of the right reasons.
Our caring and gentle staff will ensure your child enjoys the experience and will have them looking forward to their next visit. From smiling faces and a child-friendly atmosphere to dental games, we know just how to handle nervous children.
What to Expect on Your Child's First Visit
Recommended by their first birthday, this visit represents an opportunity to introduce the concept of kids' dental care in a positive way. It also allows us the opportunity to visually inspect the child's gums and teeth for any obvious issues.
We recommend scheduling your child's first dental checkup when they're around 2 years old. Of course, if there are any concerns, you're welcome to come earlier. The first few visits will help your child become more acquainted with the dentist's office to minimise anxiety in the future.
Your child's first visit can easily be paired with a parent's checkup. Since so much of the appointment is informative and educational, we believe it's best not to do too much too soon and follow your child's lead.
We use this time to answer any questions you or your child may have and to assess the overall growth and development of their teeth. As part of this visit, we'll educate both the parent and child on oral hygiene and brushing techniques.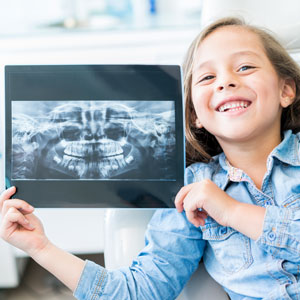 Your child's next visit is usually between the ages of 4-6. At this stage, your dentist may take a low-radiation X-ray to reveal the underlying jawbone structure and teeth which have not yet erupted. This enables your dentist to evaluate development and identify any potential issues early, such as the size or position of the teeth under the gumline.
Children are more intuitive than we often give them credit for. If you're nervous, they will be too. Keep the mood light and enjoyable. Talk to them about the importance of seeing the dentist and that this is a normal and regular thing that everyone does. Avoid scary words such as needles or drills.
Kids' Dental Pro Tip: Because children tend to get tired and/or grumpy or less patient as the day progresses, try to make appointments in the morning or afternoon as opposed to after a long day at school.
Your child's dentist will provide you (and them) with instructions and tips on how to maintain optimal oral health and prevent future issues. This typically involves the right methods of brushing, flossing, and if appropriate, the use of mouthwash.
They may also discuss proper nutrition and avoidance of certain acidic food types.
In Toowoomba, QLD and across Australia, children ages 2-18 may be eligible for means-test basic dental care. These benefits are provided through the public system under the Commonwealth-funded Child Dental Benefits Schedule (CDBS).
Typical benefits under this program include regular examinations, cleaning, root canals, fillings, X-rays, and extractions. Benefits are capped at $1000 per child over two years.
Orthodontic Evaluations
Do you have concerns about your child's tooth alignment? We will screen for orthodontic issues during their checkup. Most children need an orthodontic screening by age 7 to avoid complications related to their bite. We'll arrange for your child to see one of our dentists who offers braces for a thorough, complimentary assessment.
Schedule Your Family's Next Trip to Our Office
Our family-friendly practice cares for patients of all ages. Contact us today to request an appointment for your child.
CONTACT US »

Children's Dentist in Toowoomba QLD | 07 4638 2744