Dental Implants
Dental implants are a fantastic alternative to living with missing teeth. Through the developments and advancements in dental restoration, getting dental implants is more beneficial and more accessible than ever.
What Are They?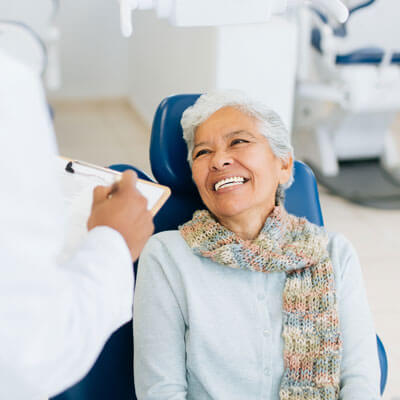 Today's dental implant designs are possibly the best option available to replace missing teeth. They are the only restoration that's entirely modelled after natural tooth anatomy.
Dental implants are artificial teeth made of porcelain, metal, or a combination of the two materials, mounted onto screw-like posts made of metal and that look and function the same as natural teeth.
Are Implants Right for You?
Implant candidacy requires enough space and healthy bone support. The first thing we will do is screen you for past medical concerns, medications and bone loss to determine if you qualify.
Dental implants provide better stability, functionality and long-term success than any other type of tooth replacement.
They are used if
You have healthy oral tissue
Have a healthy, fully-grown jawbone
Are unable or do not want to wear dentures
You do not have any conditions that will impede or prevent healing of the jaw and bone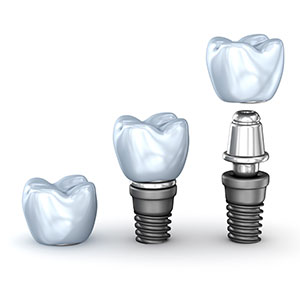 All of our dental implant cases utilise 3D CBCT cone beam scanning as part of the treatment planning process. This virtual map provides us with a visualisation of your surrounding tissues. That way we can map out where the implant needs to be placed and whether any grafting or other services are required.
Digital scanning ensures a minimally invasive procedure, requiring far less time than traditional placement. As such, you'll enjoy a gentler appointment and faster recovery time.
Implant therapy is only recommended for people with good oral hygiene, as proper home care is essential to a successful outcome.
Each dental implant experience is unique to the individual. Since some people require more implants than others-or choose a different type of fixed restoration-the overall cost of your care can vary. Our treatment coordinators will review the proposed plan with you so that you know exactly what to expect upfront.
Flexible financing options are also available. Choose between MediPay, MacCredit or spread your payments out across 2-3 appointments.
Similar to implant pricing, the time involved for dental implant therapy depends on the individual. Some people can have a tooth placed in a day, although that's typically not recommended (the implant needs to integrate to support full biting pressure). Other restorations can be completed within a few months from start to finish.
Or perhaps you're someone who needs to have additional extractions and added healing times, lengthening the overall therapy by several months. Your specific care plan at the time of your initial evaluation will include the estimated time required so that you know exactly what to expect.
If you have questions about dental implants, we're here to address them. Below are some of the most commonly asked questions we hear often. If you're wondering about something else not covered here, please don't hesitate to reach out to the practice directly.
How long do dental implants last?

We're happy to let patients know that studies indicate a 95% success rate of dental implants lasting 20 years or more. With proper care and dental hygiene, it's possible that your implants will last a lifetime.
What are implants made out of?

Implants are made out of titanium, so they're extremely strong and long-lasting.
Will I have to go to several different places to get the work done?

Not at all. In fact, that's what so many patients love about our practice. We offer everything under one roof, and if your case is more advanced and requires the assistance of a periodontist, we'll have them come here. All scans and x-rays are also taken in the practice.
How do I know if I am a candidate?

We'll sit down with you to discuss the best options for treatment. We'll start by examining your mouth to determine your goals. If need be, we'll take both intra-oral x-rays and external photos. From this, we can mock up your finished smile without you ever having to decide if you'd like to move forward. This way, you're able to see how your smile will look to decide on your treatment. If you're not a candidate for implants, we'll talk about other treatments that may be more ideal for you and offer stunning results.
Will my implant look natural?

Yes! We take pride in offering only the latest technology to patients so that their implants look natural and offer full function once the process is complete. Your gorgeous smile will be brought to life. We'll also colour match the crown placed on top of the implant so that it matches your natural teeth. No one will be able to tell that you have an implant, they'll simply think you have a beautiful smile.
Contact Us Today
If you are considering an implant, call the dentists and dental staff at Access Dental Services to get the procedure started. Their gentle care and expertise will help make the process an easy and safe experience.
CONTACT US »

Dental Implants in Toowoomba QLD | 07 4638 2744