Dentures
Dentures are one of the most economical options for replacing missing teeth. Whether you only have a few teeth that need to be replaced or your entire smile is affected, we have an option for you at
Access Dental Services
!
What Are Dentures?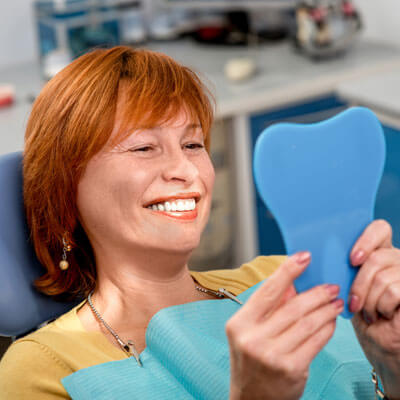 Dentures are a form of prosthetic device used to replace missing teeth and surrounding oral tissue. Modern dentures are made in either removable or permanent bonded forms and can replace an individual or a full mouth of teeth. Properly fitted dentures are nearly indistinguishable from your real teeth, making them an excellent option for patients suffering from tooth or tissue loss.
Types of Dentures
Complete Dentures: Complete dentures are created to replace a full jaw of teeth. They can be made after the teeth have been lost or removed (known as conventional dentures) or prior to removing teeth (immediate dentures).
Partial Dentures: Partial dentures are removable dentures held together by a bridge or wire and used to replace one or more missing teeth. These dentures are used for patients who still have some healthy teeth which do not need to be replaced.
Dentures can help with a variety of oral health concerns. In addition to providing patients with a healthy, radiant smile, dentures can also improve self-confidence and help bring masticatory function back to normal, improving your ability to chew food.
Traditional dentures rest directly on top of your gum tissue, creating a suction. This type of fit is easiest to achieve with an upper denture, which is why we typically recommend implant-supported overdentures for lower full dentures.
If you only need a partial denture, we design the prosthesis to partially wrap around your existing teeth, helping secure it in place.
Thanks to advanced scanning technology, our digital denture designs can improve the fit and design time of your new prosthesis. The virtual scan of your mouth allows us to pre-plan the denture fit so that it's ready within a matter of weeks, instead of months.
It's important to take your dentures out nightly to clean them thoroughly. Sleeping in a denture or partial could cause infection or wear out your appliance. We recommend soaking your denture in a cleansing solution overnight, then brushing it clean the next morning.
Are Dentures Right for Me?
Do you have missing teeth? Are extractions inevitable? Find out if an economical denture is the best solution. Contact our Toowoomba dental office today to request an appointment.
CONTACT US »

Dentures in Toowoomba QLD | 07 4638 2744