Dr Akila Vithanage, D.Clin.Dent (UQ), Specialist Periodontist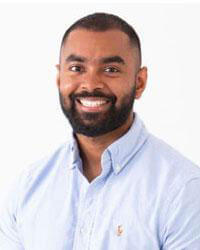 Akila was born in Windsor, NSW and grew up in Western Sydney. From a young age, he seemed to excel in his hand skills. He even earned the paper cutting award in year 1. When Akila grew up, he felt fortunate to be able to use those early acquired skills in dental school.
Dental Education and Training
In 2015, Akila earned a Bachelor of Dental Science from Griffith University, graduating with First Class Honours. He continued to work as a general dentist both in the public and private sectors. He was then fortunate to be offered a place in specialty training in Periodontics at the University of Sydney and the University of Queensland. In 2018, he received his Doctor of Clinical Dentistry from the University of Queensland.
Outside the Practice
When he's away from work, Akila likes to work out at the gym. "I also enjoy engaging in continuing professional development in periodontics, a field I feel very fortunate to have been offered the opportunity to specialise in."
Book an Appointment
Contact us today to schedule an appointment with Akila!

Dr Akila Vithanage | 07 4638 2744