At-Home Teeth Whitening
Brightening the colour of your smile can help your teeth look healthier, younger and more attractive. Teeth whitening is an excellent way to complement a healthy smile or jump-start
your cosmetic treatment
.
How It Works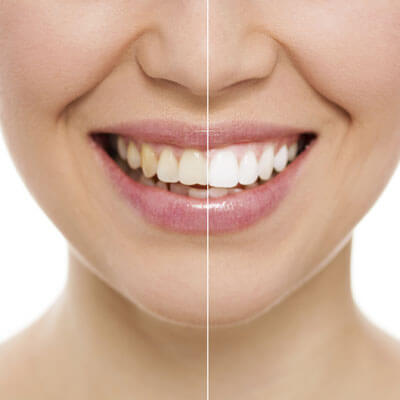 We offer professional take-home teeth whitening kits as they're safer and more effective for our patients. Unlike in-office laser whitening, an at-home system allows you to minimise the risk of sensitivity while having more control over the overall colour of your teeth.
Your custom whitening kit will include a set of moulded trays and professional-grade gel. Simply apply the gel into each tooth reservoir and wear the trays as directed. If it's your first time to whiten, you'll probably want to wear the trays about an hour a day for 10-14 days. Individuals with more sensitive teeth may prefer to only whiten every other day.
Follow your take-home instruction sheet or contact us if you have any questions. We'll record the exact shade of your teeth prior to treatment, so that you can see exactly how white your teeth become.
Maintaining Your Results
A great advantage of our at-home whitening system is that you can top off your results whenever needed. We recommend a few applications after each of your six-month checkups. After you've initially whitened, you won't have to use as much product to keep your smile bright.
Candidates for Teeth Whitening
The ideal teeth whitening candidate will be someone with healthy teeth and gums. You shouldn't apply a bleaching agent if you have active decay or periodontal infections.
Additionally, we'll need to screen your mouth to determine if there are any visible restorations within your smile zone. Treatments such as crowns and bridges won't respond to whitening agents, so it's best not to whiten unless you plan on updating your dental work afterwards.

Teeth Whitening in Toowoomba QLD | 07 4638 2744