Cosmetic Dentistry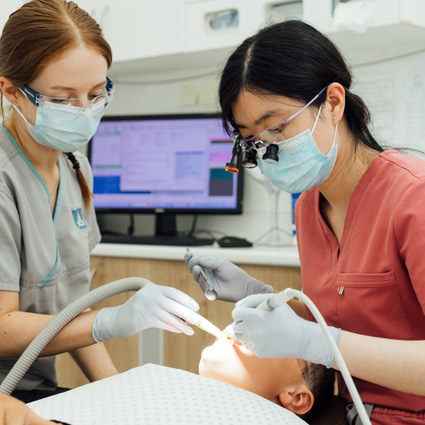 Who doesn't love a beautiful smile? The most beautiful smiles are created using cosmetic dentistry. At Access Dental Services, we provide a wide range of procedures and treatments to meet your dental health needs.
If you're interested in improving the health and appearance of your smile, here are some of the procedures and treatments we will use to help.
Modern dentistry now allows you to wear braces that no one can see. We offer invisible braces to help align your teeth without harsh metal braces.
Teeth whitening is one way to get that beautiful smile. A bleaching agent is applied to your teeth and does all the work. With power whitening a technique called laser bleaching is used to whiten your teeth.
Porcelain veneers are a very thin cover that is placed on the front of your teeth to cover and correct gaps, stains or chips.
Inlays and Onlays that correct teeth that are too damaged for a filling and not damaged enough to require a crown. An inlay is placed between the cusps (points) on the top of a tooth; an onlay is placed over one or more cusps.
We can also fix chipped or cracked teeth using dental bonding, a simple procedure that adds tooth-colored material to your own tooth so it looks natural and blends right in.
Dental contouring is a fast, effective and pain free way of correcting teeth that are crooked, jagged, too long or overlapping.
Dental crowns or "caps" that fit over existing teeth to replace missing or damaged tooth structures. They are commonly used after root canal therapy to strengthen a tooth and with an implant to replace a missing tooth.
A dental implant, which is used to replace a missing tooth. The implant consists of a titanium screw that attaches itself to the jawbone and a crown that is secured to the post of the implant.
Frequently Asked Questions
Wondering what cosmetic dental treatment is right for you? We're here to help you understand the treatment process with ease. Below are some of the most commonly asked questions that we hear often.
Have additional questions? Reach out to us and we'll be happy to help.
How do I know if I'm a candidate for cosmetic treatments?
It all starts with a consultation, during which time we'll talk about your smile goals and which treatments may help you achieve them. Want a whiter smile? Teeth whitening may be perfect for you. Want to replace missing teeth? Let's discuss implants or crowns. At your consultation, we'll be able to recommend the care that will be perfect for your smile, and you can decided whether or not to move forward after getting the full scope of the treatment as well as financial details-we're always open and honest with patients at every step.
Will my treatment be covered by insurance?
It's possible. Most cosmetic treatments (aside from teeth whitening) can be claimed, though the reimbursement amount may not be high. We can assist you in the practice with any health fund claims.
Do you offer treatments for a straighter smile?
Absolutely. We're proud to offer patients the opportunity to achieve a straighter smile at any stage of life. Clear aligners offer the ability to get the smile of your dreams without the look and feel of traditional metal wires. Find out if you're a candidate by booking a consultation today.
I'm on the fence about getting work done. Can I see my result before care begins?
Absolutely. We're proud to offer mock-ups for patients so they can see exactly what their smile will look like when treatment is complete before it ever begins. We're on your side and want you to make the best decision for yourself and your smile.
I'm anxious about visiting the practice. What are my options?
We're proud to welcome anxious patients of all walks of life into our care. We're happy to let you know that our practice is a relaxing, calm environment designed to promote health and wellness. We offer good scenery and will do everything in our power to help you be comfortable. Various sedation options can are available to meet your needs.
Get Started Today
If you're looking for a way to enhance your smile, let's see what we can do to help. With all the cosmetic dentistry procedures available today, we're sure to have one that suits your particular problem and your budget! Call our office today!
CONTACT US »


Cosmetic Dentist in Toowoomba QLD 07 4638 2744