Digital Dentistry
CEREC Single Visit Dentistry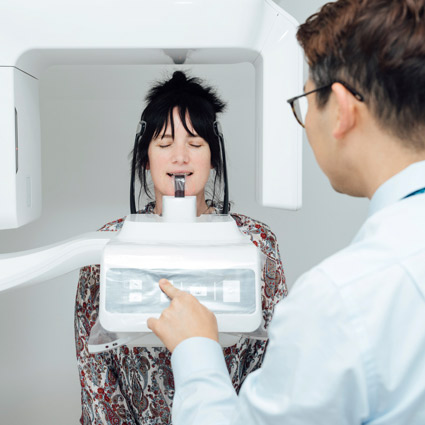 CEREC has changed the way dentists implement patient restorations. CEREC stands for ceramic construction. CEREC is a process where the mouth area is scanned where the restoration will be placed. The dentist will then create a replacement that will then be restored in the same appointment. It's a 3D imaging and camera-assisted design centre allows digital impressions of teeth which are then used to create virtual restorations.
CEREC can be used to produce onlays, inlays, crowns, and bridges. This is all done without taking mould impressions. This whole process from scanning to the restoration of the tooth is all done in the same visit.
Single-Visit Dental Appointments
Most restorative cosmetic dental procedures require multiple visits to the dentist to complete treatment. The first session normally involves the injection of anesthetics, tooth preparation and impressions, and the installation of temporary restorations. You then have to schedule another appointment a few weeks later for the installation of your permanent restoration. Save time with CEREC one-visit crowns, inlays, onlays, or veneers.
3D CBCT & OPG
Access Dental Services is proud to have latest modern technology in dentistry. We offer digital extra-oral radiography at the practice to provide the most comprehensive assessment and diagnosis along with treatment planning.
Cone beam computed tomography (or CBCT) is a medical imaging technique consisting of X-ray computed tomography where the X-rays are divergent, forming a cone. CBCT provides 3D image of scanned object.CBCT has become increasingly important in dentistry in the last few years, especially in treatment planning and diagnosis in implant dentistry. Perhaps because of the increased access to such technology, CBCT scanners are now finding many uses in dentistry, such as in the fields of oral surgery, oral pathology, endodontics and orthodontics.
Orthopantomograph (or OPG), also referred as panoramic radiograph is a panoramic scanning dental X-ray of the upper and lower jaw. It shows a two-dimensional view of a half-circle from ear to ear. OPG is used in dentistry for:
Routine examination to assess any oral pathology and periodontal condition
Wisdom teeth assessment
Finding source of orofacial pain
Diagnosis of developmental anomalies
Assessment for surgical condition
Orthodontic assessment
Dental implants assessment
And other diagnostic and treatment applications
Lateral Cephalogram (or Lat Ceph) is an x-ray of the craniofacial area from side view to study relationships between bony and soft tissue landmarks and can be used to diagnose facial growth abnormalities prior to treatment. It is commonly used in dentistry for orthodontic assessment.
Get Started Today
Learn more about our digital dentistry. Call Access Dental Services today.
CONTACT US »

Digital Dentistry in Toowoomba QLD | 07 4638 2744