Custom Mouthguards
What is a Sports Mouth Guard?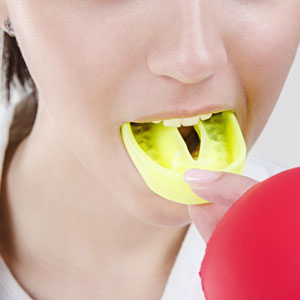 A sports mouthguard is an essential piece of equipment for anyone who plays high impact sports, whether they are a professional athlete or an amateur enthusiast.
By acting as a protective barrier to the teeth, a sports mouth guard helps prevent broken teeth, tooth loss, and oral cuts and abrasions.
Who Might Benefit From a Sports Mouth Guard?
A sports mouthguard can allow you to partake in a variety of sports and physical activities without worrying about damaging your brilliant smile. Those who play sports involving contact, tackling, or with a risk of flying objects such as football, basketball, hockey, skateboarding, or mountain biking can especially benefit from the peace of mind offered by a well-fitting sports mouthguard.
Custom Fitted vs. Pre-made
Sports mouthguards are commonly made in two forms, custom fit or over the counter pre-made. A custom-fit mouth guard is created by your dentist using a detailed mold of your mouth. A custom mouthguard offers optimal protection, durability, and comfort.
On the other hand, a pre-made mouthguard can be purchased immediately and molded to your teeth using the "boil and bite" method. This less expensive option can work well for lower-risk individuals who will only be using it occasionally as they are often not durable or comfortable enough for long-term use.

Custom Mouthguards in Toowoomba QLD | 07 4638 2744